Sandhya Menon
Genre: Romance; School; Relationships; Indian Diaspora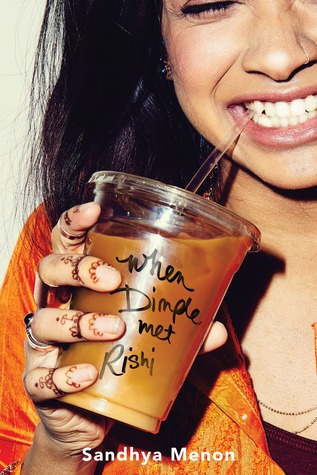 Dimple Shah has it all figured out. With graduation behind her, she's more than ready for a break from her family, from Mamma's inexplicable obsession with her finding the "Ideal Indian Husband." Ugh. Dimple knows they must respect her principles on some level, though. If they truly believed she needed a husband right now, they wouldn't have paid for her to attend a summer program for aspiring web developers…right?
Rishi Patel is a hopeless romantic. So when his parents tell him that his future wife will be attending the same summer program as him—wherein he'll have to woo her—he's totally on board. Because as silly as it sounds to most people in his life, Rishi wants to be arranged, believes in the power of tradition, stability, and being a part of something much bigger than himself.
The Shahs and Patels didn't mean to start turning the wheels on this "suggested arrangement" so early in their children's lives, but when they noticed them both gravitate toward the same summer program, they figured, Why not?
Dimple and Rishi may think they have each other figured out. But when opposites clash, love works hard to prove itself in the most unexpected ways.
"Kismet"
When I came across this book on Instagram and other book blogs, I realised that I had to read this book. Especially for the South-Asian protagonists and of course for the romance. Although, I put off purchasing the book due to being put off by some of negative reviews of some book bloggers. But, it seems like it was in fact kismet for me to read this book as I saw it sitting there at my university bookshop as I was waiting in line to buy my textbooks. So, I decided to pick it up and give it a go, which turned out to be an amazing decision.
As seen in the brief synopsis above, the novel goes through a small snippet in the life of nerd Dimple Shah and the romantic Rishi Patel. We see how Dimple deals with the prospect of an arranged marriage and bullying from the more privileged crowd. An interesting aspect of the novel, was that it alternates between both Dimple and Rishi's points of views which allows the reader to understand their thoughts as they make decisions. Initially when I began reading the book, I was sure that I would identify/root for Dimple more especially since Rishi was literally looking for a bride at 18. Although to my surprise, as I got into the book I felt more supportive of Rishi because I realised that I felt more akin to him. As a person, I saw that Dimple despite having her insecurities was more courageous in getting what she wanted and took steps to reaching her goal without being too concerned about what others would think. Whereas, Rishi was the complete opposite. In his case, his insecurities had a more prevalent place in his thought process and instead the decisions he made were influenced by others. Another thing that both characters discussed was – loneliness. This was important to me since most other school based books/TV shows showed characters that had a bunch of friends with who they would hang with and bond. But in real life, for some people it's really hard to get a "close" friend and instead those who they consider as friends consider them as just classmates.  Another fact that I saw being mentioned in many reviews was that Dimple was being unreasonable in her hate of the "Aberzombies". Although, I actually think that her anger and resentment is not that unreasonable. In the South-Asian community, status is a major issue and is determined by how much money you have. People who are more wealthy are respected and are given more opportunities compared to those who are in the middle-class range. In fact, many people who have money are more likely to be chosen for awards, competitions and etc even if they actually don't have any talent. So in this case, I understand Dimple's anger at how she feels like her social status/looks are again in the way.
The main theme of the book is obviously romance as we can obviously see from the title. In this case, Rishi is obviously excited to meet his future soulmate whereas Dimple has other priorities. I'm not going to go into too much detail about their romantic journey but there was one thing about it that just kept on annoying me. One thing that I have kept seeing in romantic novel/book/tv shows/movies is that there is a girl who is definitely not in the mood for a relationship and a guy who would just the most perfect boyfriend. And what happens…. the girl unexpectedly falls in love with the perfect boy and realises love comes when you least expect it. Whereas if you had a girl was just waiting for a boyfriend, guess what happens… no one likes her and she ends up having to settle for someone who is not really what she dreamed about. I just find it sad sometimes when the person who was never really interested gets the fairy tale ending, when the person who is waiting for someone to love her is just waiting.
So….
from my review, I pretty sure you can gather that I loved the book. As a girl with a South-Asian background, I really enjoyed how the novel dealt with the insecurities experienced by South-Asians as they try to fulfill their dreams without forgetting about their parent's expectations. This is an easy read and will definitely pick up your mood. I also feel that when you read this book, read it as if you were from a South-Asian (Indian/Sri-Lankan) background, as it will help you understand where the characters are coming from and you will gain a better understanding of the depth of their decisions.
⭐️⭐️⭐️⭐️⭐️
Have you read this book yet? If so, what did you think?  Let me know in the comments below!